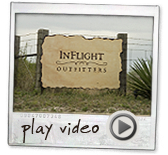 Testimonials
David,
Just a quick note of thanks for providing another fantastic experience this last weekend. All the guys look forward with great anticipation each year to getting together at Inflight. Everything…the hunting, food, service and your remarkable staff was absolutely outstanding. On behalf of all of us, I want to thank you for all you do to make our annual hunt/reunion such a great time and a hugh success. Please express my appreciation to everyone who contributed to this special experience.
Best wishes,
Art S.

David,
I was in contact with Jason & Karen during their visit; admiration was expressed with very favorable comments for your personal attention, excellent accommodations and quality dining as well as a very enjoyable hunt with a nice buck taken by Karen. Thank you again for accommodating our customer with short notice during the pre-Christmas weekend.
Regards,
Bill T

David,
I want to thank you again for last week. Everything was excellent and far exceeded our expectations. We have been around the world hunting and fishing at different lodges and yours is as nice as any we have been to. Food was excellent and staff was incredible and love their job. Thank you again and we look forward to putting together a corporate event with you in the future.
C. Carlisle
What a beautiful place! We had an awesome weekend! Three and a half hours from Houston, and I was a million miles from all the stress from the city. A great place if you want to relax have fun and be treated like a king! Thank you all for the hospitality!!!
We had a fantastic time. David Green, the hunting Guides, and the kitchen staff were a pleasure and went above and beyond to make sure we had a great time. The Ranch, the Lodge, Bedrooms, and meals were nothing short of first class. But most importantly the hunt was a huge success and a lot of fun.
On behalf of all of us.
Thank you very much !!!
James M
David thanks for pics of Nilgai and White tail and a great time with you and all of your personnel you have out there. Along with great animals. You are running a first class operation. Hope to see you next year. Thx. Randy
Dave,
I can't begin to tell you what an "Awesome" experience the hunt was. You, everyone, and everything at your facility are "Top Notch" in my book.
Look forward to coming back again soon!

Clyde
We just returned from InFlight Outfitters and had a wonderful time and experience hunting Quail.
The lodge was incredible as well as the guides and dogs.
We have already recommended you to many friends and can't wait to come back.
Thanks so much for the great time had by our party.
J. Patterson
David,
Beth and I enjoyed our stay immensely. The game quality, accommodations, and the food were all fantastic. Let you staff know that they are as, if not more personable and courteous as any staff at any other ranch I have visited. Thanks for the photos. I look forward to a return visit in the not to distant future.
Thanks again
Terry Higgins
David,
Thank you very much for a great hunt! I was very impressed with your operation and your staff. Great accommodations, great food, great time!
Thanks again,
Roland Massey
Thanks David. We had a great time with Pat and company as always.
And as always, you and your staff did an outstanding job of entertaining, from putting us in the field, to feeding us at the lodge.
The food was excellent. Hope to see ya next year
Jeff Strickland
Hi David,
I just wanted to let you know that we had a wonderful day at InFlight Outfitters for our Coastal Bend Wildlife Photo Contest birding package. And what a package you provided for us. The day was gorgeous, our guides, Linden and Nan were most delightful and knowledgeable and your hospitality was very homey and comfortable. We loved it.
Thanks again.
Gus and Gail Cargile
David- we enjoyed the hunt, the hospitality and getting to see your fine facility. We look forward to getting back with you. Please express our thanks to all your assistants and staff. The meals were excellent and appreciated.
Thanks again.
Buddy Wood
Thanks, David. We had a great time. Can't wait until next time.
Thanks,
Matt Moore
David,
Thank you for all of your hospitality and professionalism. You have a beautiful place and the staff is great.
Thanks again,
Vic Gibson
Steve J.
Greetings David and Staff.
Very much enjoyed your hospitality on "the hunt". Skeet range was really fun. Staff is awesome, food great, and all the people were wonderful. You have a first class setup and the accommodations are something else. Best of all are the friendly people you have surrounded yourself with. Hope to see you next year!
Danny H.
David, we really enjoyed InFlight Outfitters facilities, staff and hospitality. You addressed our every need and made everyone's experience enjoyable. Looking forward to returning to IFO in the future.
Frank B.
"We had a great time at InFlight Outfitters! Looking forward to hunting with you again soon"
David An.
"David- Thank you and your entire staff for a wonderful Dove Hunt. Great guides and incredible Lab work. Food and hospitality were outstanding. I had a great time!"
David Al.
"Thank you David, I had a great time. You guys thought of everything. I loved your facilities and your staff. You guys are professional and always helpful. I will highly recommend InFlight Outfitters to my friends."
Mike K.
"Many thanks for the photos from our corporate shoot and hunt. We were all impressed with the quality of the event, all aspects! I will encourage the group to continue our annual gathering with InFlight Outfitters."
Keith, Kevin and Charles, We had a great time hunting and enjoying the other pleasures of your lease. David and the staff were superb. The food was wonderful, the hunting was great, the facilities were first class and we enjoyed every minute. Your attention to detail was evident at every turn. Looking forward to next year.
Gary M.
Thank you very much for the incredible "bird hunt" invitation this past weekend at your ranch. Words can not describe how incredible the experience was for us all. You have obviously paid attention to every possible detail and your passion for this sport and your love of the ranch shows. The accommodations, the food and drink, the games, the media room, the fellowship, the expert hunting guides, and all the preparation that go to giving your guests a true "first class" hunting experience simply can not be expressed in mere words. You have to experience this piece of heaven to understand what God and you have created in this space.
Thank you again for the invitation. I am sure we will be booking space next year to experience this "hunting experience" again for us as well as our valued clients.
Mike D.
We really enjoyed the hunting and accommodations. We ate quail last night.
Stewart B.
Thank you for having patience & putting up with this lousy "Wingshot" at InFlight Outfitters. I've never bird hunted before & it was a real treat. I thoroughly enjoyed watching the dogs work & you can be proud of what you have.
The stand hunting gave me a chance to experience only what I've read about and it was WAY fun! I've never hunted in shorts, t-shirts & sneakers before.
Good luck with the rest of your season & I hope you meet your expectations.
Lyndon J.
I am writing to tell you how much I enjoyed your ranch, the quail hunt, the dogs and especially the guide during our hunting there in January.
My experience hunting quail in Texas was superb, and never will be forgotten. Hopefully I will be back next year, and able to repeat this experience again.
In the meantime I wish you every success with your hunting enterprise.
Carl W.
Thanks so very much for a tremendous weekend at Twin Oaks Ranch. You have a first class operation and all the clients had an "out of the world" experience. I look forward to doing continued mutually beneficial business with you.
Rich
What a great weekend of hunting, fun and fellowship! I've never been to a better facility. You guys have done a great job with the property! I hope to work with you soon.
Parke P.
Pat, Scott, Linda & Dee Dee, Nothing less than we expected the hunt was exceptional, the Lodge "Awesome", the Dog's " best we have ever hunted behind", the Hospitality " Simply Amazing" , The Food & Staff "Superb", and David Green as usual a true professional equally at Hunting as at Fishing, I would recommend that either Hunting or Fishing with David is simply THE BEST. WOW , what a good time we had.
Looking forward to Hunting & Fishing again this year
Pat R.
David, You outdid yourself! This trip just turned out to be one of which I will never forget. I truly appreciate your personal commitment and attention to detail. You know how to entertain...
drt
David, just wanted to drop you a note and tell you that you run a FIRST CLASS operation. I had a great time. Thank You so much.
Stephen T.
All guests must sign a

Liability and Indemnification Release

upon arrival